2019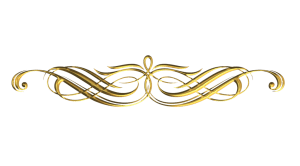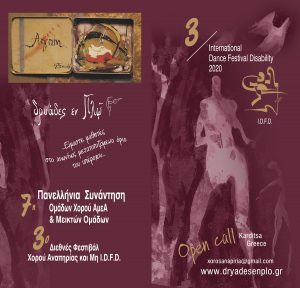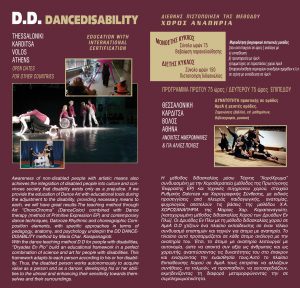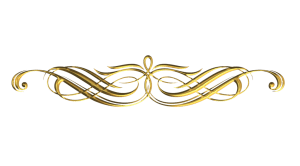 Invitation to Anapale 2019
13th International Dance Festival
Dora Stratou Dance Theatre, Athens
29 and 30 July 2019
You are invited to perform in the historical Dora Stratou Theatre
opposite the Acropolis, the focal point of dance in Greece since 1953.
Open to all forms of dance, solos, duos, companies, large ensembles.
Dancers will perform in the extra large stage of the garden theatre,
they can visit museums and archaeological sites with guides specializing
in dance history. They can attend performances by the national Dora
Stratou Dance and Music Company. They can combine it with holidays,
the nearest beach being only 15 minutes away.
Companies and schools can award International Certification to their
dancers. The most important benefit will be the privilege to perform in
the bastion of dance, near the oldest dance theatre in the world, under the
Acropolis.
Under the auspices of the International Dance Council CID and the
Municipality of Athens
Dora Stratou Dance Theatre, tel. +30 210 324 4395, fax +30 210 324 6921
www.grdance.org mail@grdance.org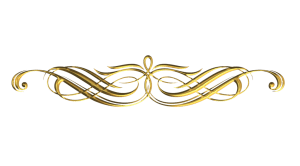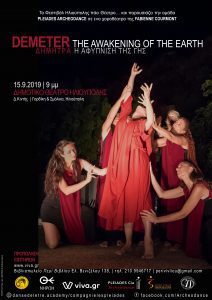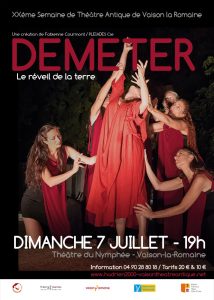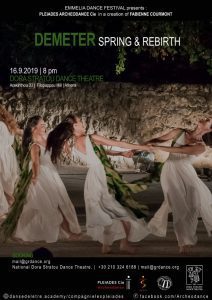 – Dimanche 7 juillet : DEMETER, le Réveil de la Terre 
à 19, Théâtre du NYMPHEE à Vaison-La-Romaine, France. (affiche ci-jointe) 
Réservation : http://hadrien2000-vaisontheatreantique.net/billetterie-reservations
Synopsis « Demeter et le Réveil de la Terre »
Ce spectacle retrace dans une quête intemporelle, le mythe de Demeter, de sa fille Perséphone et les mystères de la vie associés aux cycles des saisons. Il nous interpelle sur notre lien à la nature et comment nous harmoniser aux cycles de la Terre-Mère.
 Inspiré du Théâtre Antique Grec et du Théâtre Nô, dans la lignée d'Isadora Duncan, il inscrit entre les danseuses et le public un rapport charnel, historique et symbolique où se mêlent harmonieusement la danse, la poésie et la musique.
Création chorégraphique Fabienne Courmont, PLEIADES Cie. 
Site : http://dansedeletre.fr/event/spectacle-demeter-et-le-reveil-de-la-terre/
– 15 septembre 2019 : DEMETER the awaking of the EARTH (affiche ci-jointe) 
The Festival ILIOUPOLI goes to theatre present the dance company Les Pleiades  with Fabienne Courmont  " Demeter the awakening of the earth "
15 of September at 21.00
at the Public Theatre of Ilioupoli   Dimitris Kinitis 
Address : Gardiki e Smolika, Ilioupoli
Prebookings at :www.viva.gr
Book shop Peri Biblio, El venizelou 138  –  tel.2109946717   perivivliou@gmail.com
Site : http://dansedeletre.fr/event/demeter-le-reveil-de-la-terre-athenes
– 16 septembre : Emilia Dance Festival presents : 
"DEMETER SPRING AND REBIRTH"
à 20h, DORA STRATOU Dance theater.
Booking : mail@grdance.org
– Du 31 juillet au 4 août : Stage d'été à la Sainte Baume ( VAR / France ) .
Thème : 
Gardien(ne) de la Terre Voyage au cœur de la Terre sacrée de la Ste Baume
Danse de l 'Être©avec Fabienne Courmont
FORÊT de Ste BAUME (83)
Participation: 380€
(-30 ans et personnes en difficulté financière nous consulter)
Horaires : du 31 Juillet (10:00) au 4 Août (14:00)
Hébergement : Chambre d'hôtes «La Coutronne» 10 304 route de la Sainte Baume 13 390 Auriol
26€ la nuitée + repas
Contact – Inscription : Viviane-Marie 06 60 56 69 31
 Je vous remercie encore et je reste à votre disposition, s'il vous manque un élément. 
The CID Panorama of Dance Events
a program of the 
International Dance Council – Conseil International de la Danse
CID, UNESCO,  1 rue Miollis,  FR-75732 Paris 15,  France
tel. +33 1 4568 4953     www.CID-world.org